Note: The Crockford-Pigeon Mountain Wildlife Management area is now a fee area.  Click here for more information on fees.  If you are looking for status updates, check the Journal's "The Pocket" Category.
The Pocket at Pigeon Mountain in Walker County, Georgia is considered to be among the finest areas for wildflowers in Georgia.  It is a part of the Crockford-Pigeon Mountain Wildlife Management Area, and is home to the Shirley Miller Wildflower Trail.   I've compiled some wildflower identification field guides for this area that you can find below.
Getting there:  From LaFayette, GA take Hwy 193 North for about 8 miles to Davis Cross roads. Turn left onto Hog Jowl Road and go nearly 3 miles. As you top a hill, Pocket Road is on the left. Drive slowly and carefully along Pocket Road for about a mile, crossing a creek, and then turn left into the parking lot at the end.  Walk down the gravel driveway through the handicap parking area to get to the Shirley Miller Wildflower Trail.  From south Chattanooga, go south on St. Elmo Avenue and cross the state line into Georgia, where St. Elmo Avenue becomes Georgia 193.  Follow Georgia 193 for 18.5 miles to Davis Crossroads (passing thru Flintsone, High Point, and Cooper Heights) and turn right onto Hog Jowl Road.  From there follow directions above.  Below is a Google map showing the location.
View Larger Map
The Shirley Miller Wildflower Trail contains nearly a quarter of a mile of boardwalk to prevent enthusiasts from overrunning the myriad of wildflowers, and then extends for another several hundred yards beyond the end of the boardwalk up along the creek to a wonderful waterfalls.
The trail past the boardwalk is somewhat rugged, but for those willing and able to make it, it is worth the effort.  Just be careful where you are putting your feet as you travel this trail – the wildflowers crowd it all the way to the falls.  (Note: The heavy rains of 2009 caused a landslip on the "wood poppy hillside," tearing a section of the boardwalk apart.  Since this is in the loop section of the boardwalk, you can still walk all the way to the end using the front part of the walk.  Further Update: The boardwalk has been repaired as of March 2011.)
While the Shirley Miller Wildflower Trail has enough wildflowers by itself to make several trips in a season worthwhile, other areas of The Pocket have wildflowers in abundance as well, and extending your visits to other part of The Pocket are definitely worthwhile.  North of the parking area immediately across the little creek are an abundance of wildflowers, and if you continue on that trail up over the next couple ridges toward Blue Bird Gap, there is an excellent area of wildflowers where the trail crosses a creek, in addition to the many that can be found along the trail.
Also as you leave the parking area heading down the driveway to the Shirley Miller Wildflower Trail, there is a horse trail that goes uphill to the left around the gate.  Along this trail are an abundance of wildflowers throughout the spring.  In addition after passing the top of the falls the trail passes through an open field with the flowers you find in that kind of habitat, and continues on through many other wildflower-rich areas.
Identifying the abundance of wildflowers in The Pocket can be a challenge.  I believe that wildflower references more specific to an area make that task easier – and more pleasant.  In addition to the PDF's you can find below, I recommend Jay Clark's Wildflowers of Pigeon Mountain.  You can pick up a copy at the nearby Pigeon Mountain Country Store, which is just a couple of miles north of The Pocket at Davis Crossroads.  You might want to plan your stop to pick up Jay's book around meal time.  They have good food.  Breakfast is available until 10 AM, so breakfast at Davis Crossroads while looking over Jay's book would be a good way to build enthusiasm for your trip into The Pocket.  UPDATE: As of Feb 2014, the Pigeon Mountain Country Store is once again serving breakfast after a hiatus of about 2 years.  Lunch or dinner is also an option.  (I am not associated with the store, and have no financial interest in either the Pigeon Mountain Country Store, or in the sales of Jay Clark's book.)
I made 17 trips to The Pocket from February through May of 2009.  You can read reports from prior years and get current status here.  You can view an album of photos from those trips.  Using the information and photographs from those trips, I have compiled some reference guides that can help you identify wildflowers that may be in bloom during each of the spring bloom periods listed below.  Each reference guide is on two 8×11 pages; you can print these off two-sided and carry a single reference page to identify up to 16 wildflowers.  Some flowers will continue to be blooming during a later period and may be left off the guide for that date range, so it might be wise to bring the guide for the prior period with you on your trip to The Pocket.  Click on the date range to open the PDF file containing the guide.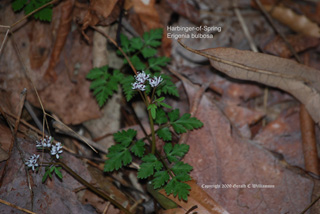 Even in north Georgia February is early for wildflowers, but several may start blooming in early- to mid-February.  There are 12 photos of 11 wildflowers in the February identification guide, and of these several are just showing foliage or foliage and buds.
Harbinger-of-Spring is typically the earliest of these, and in 2009 was blooming as early as Feb 7.
Wild Hydrangea – Last year's beautiful wild hydrangea blossoms may still be around if they haven't been washed away by the flooding.
Hepatica – Hepatica is an early bloomer, and you may see the white, pink, or blue blossoms as early as mid-February; certainly by the end of February.
Cutleaf Toothworth will be showing buds and perhaps the first few opening blossoms in late February
Trailing Trillium will show up with their three leaves along the boardwalk.  While the blossoms likely won't be open, they may show a bit of their red color by the end of February.
Wood Poppy – Celandine Poppy – will have some hairy flower buds by the end of February.
Carolina Spring Beauty flower buds will be showing in late February.  You might even catch one of these pink and white beauties open late in the month.
Virginia Bluebell foliage will be showing up in late February, and some of the plants may even have some pink flower buds ready to open.
You'll be able to spot the Trout Lily leaves pushing their way up through the leaves in mid-February.
Bloodroot will be unfolding their leaves from around the buds in the earliest plants in late February.
Star Chickweed should be starting to bloom by late February.
Early March really starts the wildflower season at The Pocket.  It's worth a visit for those close at hand, although if I could only make one or two trips I'd wait til later.  Here is a list of the plants in the March Identification Guide for this time period:
Virginia Bluebell – While not at their peak in early March, their pink buds will become abundant, and a few blossoms will likely open up with their beautiful blue color.
Trout Lily – These beautiful flowers will likely move into full bloom during the first half of March.
White Trillium – will be forming their buds, and even though probably not open yet during the 1st half of March, they are beautiful in their pre-bloom form.
Cutleaf Toothwort – While a few of these may have opened in February, they'll become abundant in early March.
Hepatica – This wonderful flower may be dominant during the first part of March.
Carolina Spring Beauty will be much more than budding.
Trailing trillium will probably start to show some color, but you probably won't find any fully open yet.
You'll probably find some Bloodroot fully open.
See if you can spot the Spicebush blooming along the boardwalk.
Rue Anemone may be starting to add its white color to the landscape.
You may catch an early Bellwort opening it's hanging yellow blossoms.
Foamflower may have some buds on the stem arising from last year's leaves.
The Wood Poppy may tease you with a yellow blossom or two ready to open.
The earliest of the Dutchman's Breeches will be forming their blossoms now; one or two maybe fully.
In mid-March the wildflowers really become profuse at The Pocket.   I had a difficult time paring down the original 33 photos to 16 for the identification guide for this time period.  There are a number of plants that will continue to bloom in mid-March from the early March ID sheet, so you may want to bring it along too.
The Redbud trees along the driveway should be starting to bloom
Trout Lily should be in abundance in mid-March.
Bloodroot will continue bloom during this period, but will be waning.
Rue Anemone will likely be blooming.
Purple Phacelia will be beginning to bloom, probably late during this time period.
Carolina Spring Beauty should be abundant in mid-March.
Dutchman's Breeches will likely have their short bloom period during this time.
Trailing Trillium will likely begin blooming during this time.
The earliest of the Large-flowered bellwort will be blooming, but the peak for this species will be later in March.
You may spot a Wild Geranium or two during this period; peak is later.
Hepatica will be in white, blue, and pink, probably many.
Virginia Bluebell will be blooming, peaking probably in the 3rd or 4th week of March.
Wild Blue Phlox will start to show up, but only a preview of their later dominance.
Wood Poppy will start blooming in earnest during this period.
Long-spurred violet will be here late in the period, but you may need to walk the horse trail rather than the boardwalk to find them.
Canada Violet will begin it's long run toward its dominance near the back of the boardwalk.
Wildflowers should be profuse in late March; this is a great time for a visit to The Pocket.  Featured in The Pocket Guide for March 21 – 31:
Virginia Bluebell
Foamflower
Trailing Trillium
White Trillium
Bishop's Cap
Large-flowered Bellwort
Dutchman's Breeches
Sharp-lobed Hepatica
Wild Geranium
Eastern Columbine
Jack-in-the-Pulpit
Yellow Mandarin (Fairybells)
Purple Phacelia
Canada Violet
White Baneberry
Wood Poppy
Crested Dwarf Iris – 

Iris cristata

Eastern Red Columbine – A

quilegia canadensis

False Solomon's Seal

–

Maianthemum racemosum

Meadow Parsnip –

Thaspium barbinode

 Woodland Stonecrop –

Sedum ternatum

Wild Geranium – Geranium maculatum
Wild Blue Phlox – Phlox divaricata
Squawroot – Conopholis americana
Violet Wood Sorrel – Oxalis violacea
Mayapple – Podophyllum peltatum
Wood Betony (Lousewort) – Pedicularis canadensis
Wild Hyacinth – Camassia scilloides
Fairybells / Yellow Mandarin – Disporum lanuginosum
Canada Violet – Viola canadensis
Bent White Trillium – Trillium flexipes
Bent White Trillium – Trillium flexipes  Note: I had this as Sweet White Trillium – Trillium simile –  but after consultation with some folks at the Georgia Botanical Society, this is likely T. flexipes rather than T. simile.  The T. simile ID was based on the reddish ovaries. T. simile's ovaries are typically a much darker color, and the ovaries of T. flexipes can be pinkish.
Pink Azalea – Rhododendron periclymenoides
Eastern Red Columbine – Aquilegia canadensis
Flowering Dogwood – Cornus florida
Hairyjoint Meadow Parsnip – Thaspium barbinode
Woodland Stonecrop – Sedum ternatum
Wild Geranium – Geranium maculatum
Purple Phacelia – Phacelia bipinnatifida
Sweet Betsy – Trillium cuneatum
Sweet Anise – Osmorhiza longistylis
Foamflower – Tiarella cordifolia
Bladdernut – Staphylea trifolia
Wild Hyacinth – Camassia scilloides
White Baneberry – Actaea pachypoda
 Wood Betony / Lousewort – Pedicularis canadensis
 Jack-in-the-pulpit – Arisaema triphyllum
Dewberry – Rubus flagellaris