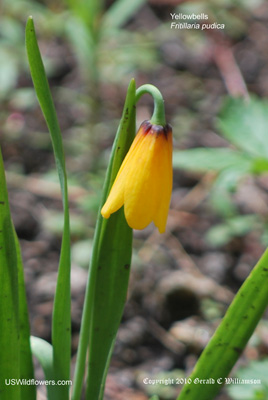 I enjoy the process of photographing wildflowers nearly as much as I do exploring the photographs on my computer once I get back home.  Wildflowers are excellent subjects: beautiful, full of mystery, infinitely variable, and, unlike humans and other forms of wildlife, extremely patient with this fumbling photographer as he searches for just the right angle and distance to capture the portrait.  My enjoyment of the process, however, is greatly magnified when on that rare occasion I capture a really beautiful image, and the percentage of those "Yes!" images has increased as I have upgraded my photography kit. Herein is a description of my wildflower photography gear.  This isn't a list of "gear you should get" – there are better ways, and better gear, but this is what I use.
Nikon D60 10.2MP Digital SLR Camera:
I first started 35mm photography with a Minolta SRT101 SLR in the mid-1970s.  Minolta made good cameras and good lenses, and they were notably less expensive than the Nikons my childhood friend Nolan Newton used in his photography hobby during high school.  After a couple of point-and-shoot cameras in the digital era (including a Minolta) I needed a replacement.  My daughter had a Nikon D70, and since Minolta was no longer an option and I had always wanted a Nikon, I decided to give Nikon a look.  I figured they'd be out of my price range, but lo and behold, the D40 was within reach.   The D40 was adequate, but it had two problems – the 6 megapixel image size limited cropping, and my wife was always borrowing the camera.  The D60 came out, so we bought the 2-lens kit.  I got the D60 body, and my wife got the VR (vibration reduction) lenses for her D40.  While the D60 is serving the purpose – providing a budget entry into the high-quality DSLR area, I would like to get a "full size" format sensor rather than the reduced DX format at some point in the future.  Since that would also require a full suite of lenses, that's probably not in the cards for many years.
Tamron AF 90mm f/2.8 Di SP A/M 1:1 Macro Lens:
This is the lens that is on the body of my camera 95% of the time.  I really like this lens, and it is much less expensive than the Nikon 105mm micro that I initially had my eye on, and which moved out of my price range with Nikon's 2009 price increases.  The autofocus isn't as fast as Nikon's, and it has a tendency to hunt more, but for the vast majority of my wildflower photography I'm on manual focus anyway, so that isn't a big issue.  The 90mm (135 equivalent) makes for a decent portrait lens as well, and f/2.8 is a good speed, although it is slower at the closer focus distances.  It is not internal focus, so the lens changes size significantly as you focus in to macro distances.  Did I say that I like this lens?
Nikon 55-200mm f/4-5.6G ED IF AF-S DX Zoom Nikkor Lens:

This is one of the kit lenses that came with the D40.  Since 80% of what I shoot is on a tripod, VR isn't needed at least 80% of the time.  I use this lens when I can't get close enough to a plant to use the 90mm Tamron.  This lens in combination with the 18-55mm zoom were acceptable, but didn't provide the 1:1 macro capability I wanted, and the f5.6 speed is a bit slower than I wanted. (When using this for wildflower photography it is usually zoomed out in the high end of the focal length range.)
Nikon 18-55mm f/3.5-5.6G ED II AF-S DX Nikkor Zoom Lens:

This is another of the kit lenses that came with the D40.  This lens will focus much closer than the 55-200 zoom, so to get certain perspectives on flowers I used this a lot before I got the Tamron macro lens.  Now it's relegated to circumstances when I need the wide-angle to photograph a full plant from a perspective or distance where I can't use the 90mm Tamron.
Lens Hoods: The Tamron and Nikon 55-200mm lenses came with lens hoods.  I use them, even when "not needed."  That establishes the habit so that when I discover they are needed, I don't have to go digging around to find them, wasting time that is precious during those times when the sun is at a low angle and the hoods are more needed to prevent lens flare.  And even when they are not needed from a lighting perspective, they provide added protection for the lenses, both from bumps and scrapes, and from drips of water when shooting after a rain.
UV Filter:  On each lens.  We all know the purpose of these; cut haze, which isn't much of a problem for wildflower photography, and protection of the more expensive glass in the lens.  You might want to avoid the cheapest ones so that you don't have poor quality glass hiding the image from your high-quality lens.
Manfrotto/Bogen 3001 Tripod Legs:  A tripod is mandatory for sharp macro photography.  While some photographers recommend some really expensive legs, and I don't recommend the really cheap ones, you can get decent tripod legs without breaking the bank.  I purchased my Manfrotto/Bogen (Manfrotto manufacturer; Bogen distributor) legs on Ebay in excellent condition for around $50.  The newer version of these – Manfrotto 190XWNB

– are around $150, and have the advantage of being able to spread the legs to 88 degrees to get very low to the ground, after removing part of the post.  With the 3001, you remove the post and mount it from underneath the legs to get the camera close to the ground.  In this position it's somewhat difficult to get to the viewfinder and camera controls, and since the camera is upside down, the controls are "backwards" and take a lot of fumbling around to know if you've got the right button to make appropriate adjustments.  These tripod legs are aluminum, and while not as light as carbon fiber legs, weren't nearly as expensive and aren't so heavy that I hesitate to take them on several-mile hikes.  The legs are 3-part, with two screw type releases.  While these are a little more difficult to release than the flip-type quick-releases, I had some bad luck with broken quick-release levers on some cheaper tripods I've owned I the past.  I've also got a Manfrotto 676B monopod with a 3232 head that I use when I'm not planning on macro photography and I want to travel light.
Manfrotto 486RC2 Ball Head with RC2 Quick Release:

This ball head is big enough to handle the heaviest gear I have, but not so large that I hesitate to carry it with me on somewhat long wildflower hikes.  The ball head allows infinite position adjustment so you only need worry about getting the tripod legs adjusted to a solid position, not exactly level.  The only complaint I have about this head is that when I tighten it the camera will drop ever so slightly from the selected position, slightly changing what's in my viewfinder.  This is really only noticeable when I'm close to the subject, and I adjust for this expected drop when I compose in the viewfinder.  I've read that some of the more expensive ball heads don't have this issue, but for now I can make the very slight adjustment better than I can justify the extra cost.
Nikon ML-L3 Wireless Remote Control:

Reduce camera vibration by avoiding touching it when it's mounted on a tripod by using a remote release.  This is an inexpensive way to improve the sharpness of your photographs.
Lowepro SlingShot 100 AWS Camera Backpack:

This is a real handy camera case, with room enough for all three of my lenses (one on the camera,) the SB400 flash, and the rest of my kit (well, not the ground pad.)  In addition, I there is room for a couple of silicone stuff sacks in case of rain, a Clif Bar or two, a spare pair of reading glasses, lens cleaner items, spare batteries both for the camera and the flash, spare SD cards, and a few other item.  I've borrowed my daughter's SB600 flash a few times, and it will fit in, replacing the SB400, but I've got to rearrange a bit to carry the SB600.  The Slingshot line slides quickly and easily around from the back to horizontally in front of you, so the camera is easily accessible.  It also provides an adequate platform for changing lenses, although you need to be careful taking the extra lenses out of the case to avoid dropping them.  The Slingshot 100 is the smallest in the line, and for a camera body larger than a D40/D60, it is probably too small.  My brother-in-law got a 200 for his D90.  The "AW" designation is for "all weather" – there is a silicon pack cover hidden away in a slot at the bottom which provides some decent weather resistance, although I do carry a couple of extra silicone stuff sacks for the camera and other sensitive gear.
Nikon SB-400 Flash:

Lighting is a weak spot in my kit.  The SB400 provides plenty of power for the distances involved in most wildflower photography, but a camera-mounted flash can provide some shadows that are difficult to manage, and I don't yet have a diffuser purchased (or built).  When getting in close with the macro lense, only a small part of the photo will be illuminated by the direct flash.  A reflector and/or diffuser will help.
Reflector:  My hand, which is really laziness rather than budget, since there are inexpensive ways to have a neutral-color reflector.  I'm surprised that the hand works as well as it does.  I aim the SB400 upward, hold my hand over the subject, and release the shutter with the remote release in the other hand.  Colors are warmer than normal when I use this technique.
Closed Cell Camp Pad

Macro photography of plants sometimes requires that the photographer be a contortionist (especially if the camera is hanging upside down underneath the tripod.)  I have a closed-cell, full-length sleeping pad that I lay down on if the ground is wet or otherwise unpleasant.  I also have a piece of the cloth shelf liner stuff into my camera case to use to kneel on to keep grass/dirt stains off of my jeans when I don't need the full pad.
Travel Vest:  I have a Campmor Traveler's vest with many pockets that I wear most of the time, unless it's absolutely too hot – I've got a hankering for a nylon version for summer.  Pockets will contain field guides when I carry them (not usually), bandanas, spare batteries, reading glasses, sunglasses, headlamp, stuff sacks, collapsible umbrella, passport, pencil, cell phone, water bottle.
Voice Recorder:  My Palm Centro cell phone has voice recorder capability.  I find it very handy to make voice field notes on plants that I want to identify to supplement my identification photographs.  There have been many times I've returned home to find out I didn't get a photograph to determine a particular characteristic (underside of leaf, for example.)  My voice notes sometimes make up for something lacking in the photographs.  I also note the specific location of the plant, something I may well have forgotten by the end of a day that may have covered many miles.