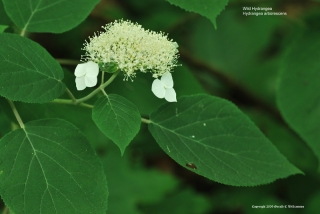 In the May 5 post, I mentioned that the wild hydrangea blossoms were forming their buds.  Since I only had photos of prior year's blossoms – which I think in themselves are quite beautiful – I wanted to make sure I got a chance to photograph them while in bloom.  I managed to squeeze out some time (thanks for giving up work on the ceiling, Cindy!) on Saturday, June 6, and was rewarded with finding the hydrangea at peak of their blossom.
There were a number of other species blooming, and it was also a good opportunity to see some of the seeds developing.  Both the blue cohosh and the white baneberry berries were developing but still green; not the namesake blue and white yet.  Give them a few more weeks.  Bladdernut seedpods are fully developed.  I was amazed at the height of some of the Jack-in-the-pulpit leafstalks, even though the Jacks/pulpits were long gone.
Blooming:
Blackeyed Susan
A couple of species of fleabane other than the earlier Philadelphia.  Probably daisy or prairieor both.)
Wild Bergamot – Monarda fistulosa.  One of the bee balms, and called that for good reason.
Wild Garlic
Morning Glory
Red and White Clover
Whiteflowered leafcup – Polymnia canadensis
One of the Skullcaps (probably Mountain; pending confirmation)
Indian Plantain – Arnoglossum atriplicifolium
Smooth Phlox – Phlox glaberrima.  A very few of these still blooming.
Queen Anne's Lace