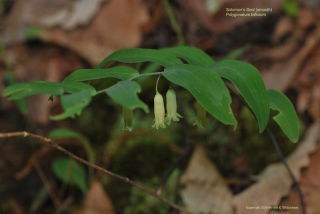 There are two species of Solomon's Seal in the Tennessee/Georgia/North  Carolina area, Smooth Solomon's Seal - Polygonatum biflorum – and Hairy Solomon's Seal – Polygonatum pubescens.   This is, I believe, Smooth Solomon's Seal.  I'm pretty sure that I checked the underside of the leaves for the tell-tale hair along the veins that would have identified this as Hairy Solomon's Seal.  The above photo is from along the Big Frog Trail in Polk County, TN on May 9. 
The bell-shaped flowers of Solomon's Seal hang in pairs below the alternating leaves that line the stem.  The photo below was taken at The Pocket on Pigeon Mountain in Walker County, GA on April 25.  Interestingly, the USDA Plants database doesn't list either smooth or hairy Solomon's seal in Walker County.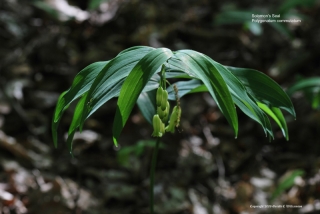 According to National Audubon Society Field Guide to North American Wildflowers – Eastern Region
 the name 'Solomon's Seal' comes from the "distinctive scar said to resemble the official seal of King Solomon" which shows when the leafstalk is broken away from the rhizome from which it grows.